Principal's Message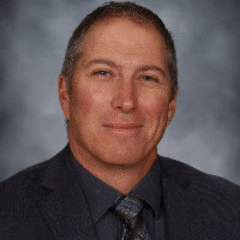 Well, I have to confess, I have started and stopped this principal message multiple times since I found out that I would be coming to Queen Elizabeth as your new principal. Part of this, of course, was a reflection of the seemingly continuous uncertainty that we've lived with these past few years, but another part was simply struggling to find a way to put a lot of thoughts and feelings that I'm experiencing into this relatively brief message.
I grew up in North East Edmonton and while I'm not a QE Alumni, it's been interesting for me to realize how many close ties I have to this school. When I was a boy I think that every soccer team I played on through my teenage years seemed to practice at QE during the winter, so I literally spent years of Saturday afternoons in the QE gym. My first student teaching experience - the first time I ever stood in front of real live students - was at QE. I probably have 10-15 other meaningful connections that I could list off, and that sense of connection - both physical and emotional -to this wonderful school is something that I've heard from every person I've spoken to - students, staff and parents - over these first few months of reintroducing myself to QE.
What will this year be like? Well, again, I'll come back to some of that uncertainty I referred to earlier. As it stands right now, you can expect to return to a school experience that looks similar in some ways to how it was in June- we're still all wearing masks, there will still be restrictions on how we group and gather - but you'll also see more of what we might call "normal" high school stuff: school teams are back, semestered classes are back, to name just two things. As I write this we are still figuring out some of the details, but one of the things I will say is that nothing is going to be fixed in stone. Our division and our school are going to be constantly evaluating our situation so that we can continue to ensure that QE is a safe and vibrant learning space for all of our staff and students. As for a return to "normal," well, I'd anticipate that as the year progresses we'll see more and more possibilities unfold for us all, but I'm going to push back on that word "normal" a bit. I don't want any of us to ever aspire to QE being a "normal" school. I want us to continue to strive to make this an extraordinary place to be. I am already so inspired by what I have seen and I am deeply honored to be a part of this exceptional staff that is here to serve you. I am really looking forward to meeting you all in the coming weeks!
Brent McKeown,
Principal